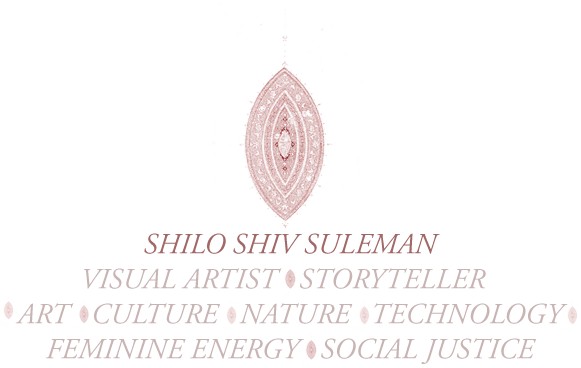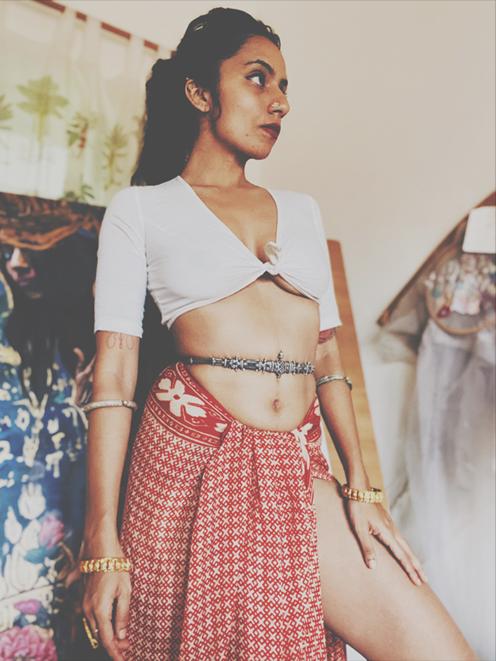 Shilo Shiv Suleman is an award-winning Indian artist whose work lives and breathes at the intersection of Magical Realism, Art, Nature, Culture, Technology, Feminine Energy and Social Justice.
Her work is unapologetically embodied weaving together the sensual and sacred, past and future- through paintings, wearable sculptures, interactive installations and public art interventions. Her practice is an extension of the diverse abundance and sensuality of precolonial India- sometimes reclaimed (and sometimes imagined) but deeply rooted in ceremony, ritual and earth magic.
She began her career at 16 as a children's book illustrator and had 10 published books by the time she was 20. As an INK fellow, her work became known when her talk made it to TED.com, and got just under a million views in 2012. She was then chosen as one of the three pioneering Indian women at TEDGlobal, and spoken at conferences like WIRED, DLD in London and Munich. She also felicitated with the Femina "Woman of Worth award", the New India Express 'Devi Awards in 2015 and the Futurebooks Digital Innovation award in London.
Her collaborations with a neuroscientist on creating art that interacts with your brainwaves and other biofeedback sensors made her recipient of several grants including the honorarium installation- Pulse & Bloom at Burning Man. She has been featured on TED, BBC, Rolling Stone, MSNBC, Tech Crunch, The Guardian and has exhibited her work at the Southbank Centre in London and most recently the Stedelijk Museum in Amsterdam.
She is the founder and director of the Fearless Collective- a movement in replacing fear with love in public space.
Over the last few years, she has worked with communities across the world in 12 different countries by facilitating and leading public art interventions with indigenous communities in Brazil, refugee and migrant communities in Beirut, queer activists in South Africa and transgender activists in Pakistan and more. Her work with Fearless has led her to represent her pioneering approach of Art and Peacebuilding at the Global Forum of Democracy, Stockholm Institute of Peace, United States Institute of Peace and be covered by a range of international media including National Geographic and more. Fearless intends on growing into a movement of hundreds of south-asian artists reclaiming public spaces through participative storytelling.
Her newest body of work- "Semiprecious" explores the forces of nature- rivers, mountains, the movement of tectonic plates, wind currents, photosynthesis, rocks, moss, minerals and all kinds of invisible, microcosmic and macrocosmic VR love stories.